The Intruders have arrived...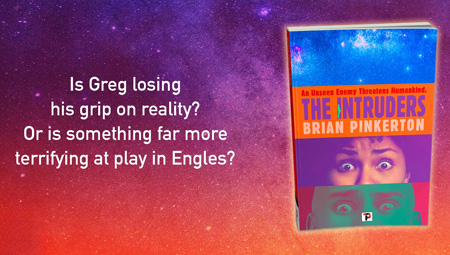 Who—or what—are The Intruders?
Something very strange is taking place in Engles, Indiana. People are disappearing. Aggressive swarms of insects are on the attack. The skies are producing a substance that doesn't look like natural rain. And late at night, residents are haunted by ghosts desperate to reveal the secrets of their existence but unable to speak.
Greg Garrett has just accepted a new job that requires constant travel, and his detachment from his family is about to become real beyond his wildest nightmares.
When Greg returns home from a business trip, he finds an empty house – and no clues to the whereabouts of his wife, eight-year-old daughter and baby son. He immediately contacts the local sheriff's office. An investigation leads nowhere with a total absence of clues.
The danger grows. More people vanish. And anyone who attempts to expose the truth becomes a target.
Fans of spooky sci-fi will discover a creepy, fast-paced thrill ride that builds to a shocking conclusion.
"An entertaining retelling of a classic sf invasion story along the lines of
The Puppet Master
or
Invasion of the Body Snatchers
."
—
Booklist
, the book review journal of the American Library Association
"Filled with memorable characters and turbo-charged with a breakneck pace… a visceral plunge into paranoia and terror."
— Jonathan Janz, author of
Marla
and
The Siren and The Specter
"A terrific entry into the sci-fi paranormal genre that fans will love to read. A story with a surprising amount of heart and humanity at its core."
— Emerald Reviews
"The Intruders by Brian Pinkerton is my favorite book of the year so far…. I cannot recommend it more."
— Josef Hernandez,
A Reviewer Darkly