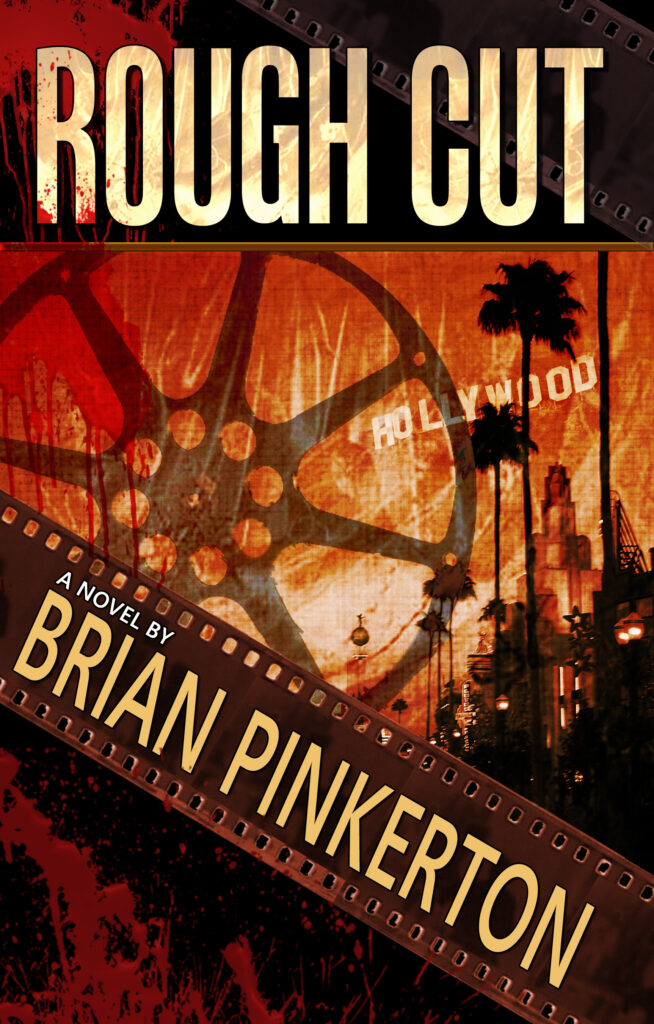 Making movies can be murder.
Horror legend Harry Tuttle is desperate for a hit. Harry's career has been on a painful slide ever since he directed a couple of box office winners in the 1980s. Enter Marcus Stegman, a young unknown with a horror picture of his own. It's not only a brilliant debut — it's the movie Harry always dreamed of making.
A rivalry ensues — and it's about to become bloody. A suspicious film critic, beautiful young starlet, and deranged fan become entangled in the cut-throat competition where hungry hopefuls will go to any means necessary to break into the big-time…and no one is safe.
Bad Moon Books (2011)
Dark Arts Books (2017)
---
Available in Paperback, Limited Hardcover and Ebook
Also available from: Indie Bound, Apple Books, Google, Kobo
---
Praise
"Pinkerton paces his novel masterfully and much like a movie script, with quick scenes and snappy dialogue… This is modern pulp worth checking out."
— Rue Morgue magazine
"Gripping… it literally would not let me go until I read the last page… The characters are incredibly intriguing and the story line is unique, well-developed and perfectly described. Bottom line: Brian Pinkerton can flat out write with the best… This thing cooks, people… good luck putting Rough Cut down once you start."
— Jordan Norton, The Crow's Caw
"A terrific book, and I enjoyed it immensely. Highly recommended!"
— John R. Little, Bram Stoker Award-winning author of Miranda and The Memory Tree
"Wow. That is the first word that comes to mind when I think of Brian Pinkerton's novel Rough Cut. I was absolutely enthralled with it from beginning to end… without a doubt the best book that I have read this year."
— Todd Martin, Horror News
"Pinkerton writes a story that needs to be read in one sitting and the twists and turns are pure bliss."
— Crimespree magazine
"Rough Cut features a well-crafted plot, tight writing, and a fantastic level of suspense… Pinkerton has done his homework here: his portrayal of the ins and outs of the film business kept me as interested in the proceedings as the ever-growing tension. You won't be bored for a second."
— Nick Cato, The Horror Fiction Review
"Author Brian Pinkerton writes a fantastic tale of twists and turns. His details of movie making are as good as any Hollywood insider… 5/5 rating."
— Horrorview
"A non-stop thrill ride of twists and turns, Pinkerton winds this prose film spool tighter and tighter until Rough Cut reaches the bloody breaking point. Two severed thumbs up!"
— John Everson, Bram Stoker Award-winning author of Siren and The Pumpkin Man
"Rough Cut is a terrific fast-paced thriller that film buffs—especially devotees of the schlock horror genre—will devour in a few riveting hours. Pinkerton's knowledge of the movie business and Hollywood trivia, as well as his talent for telling a whopping good story, makes this tale a blockbuster!"
— Raymond Benson, author of the James Bond anthology Choice of Weapons
"Rough Cut is the real deal, highly recommended."
— C. Dennis Moore, The Horror Zine
"Brian Pinkerton's Rough Cut is equal parts thriller and horror drive-in feature. A sleek love letter to the very same shot-on-a-budget classics it emulates, Rough Cut pits down-in-the-dumps burned out director Harry Tuttle with everyone's worst nightmare, a crazed fan. But in this case, the fan is ever so much more dangerous. Filled with the set pieces of a Saturday night double-feature, Rough Cut will tickle all the right bones… before chopping them off."
— W.D. Gagliani, author of Wolf's Edge (The Nick Lupo Series) and Savage Nights
"Brian Pinkerton has crafted a fast-paced, suspenseful ride that one could imagine seeing up on the big screen… It's a biting look into the Hollywood movie scene and also a love letter to horror films… Recommended."
— Trever Nordgren, Dark Discoveries
"Rough Cut is recommended for thriller fans and fans of horror cinema."
— Mark Justice, Pod of Horror
"Grab the popcorn and enjoy this ticket to a great read. Brian Pinkerton has taken a great story to the next level with compelling characters and a sucker-punch plot twist."
— Scarlett Dean, author of The Frost Sisters mystery series
"Pinkerton's Rough Cut was easily one of the half dozen best novels I read last year… Rarely does one read a book which can put you 'on the edge of your seat' as movies so often do, yet this novel does precisely that."
— Hal Bodner, author of Bite Club

"Brian Pinkerton is the real thing. Rough Cut is a hip and savvy look at the trials and tribulations of a formerly respected horror director and his current status as one that makes low, LOW, budget crap. Pinkerton's prose hits all the right notes…"
— Mark Sieber, Horror Drive-In

"What a great book! Absolutely loved it. Couldn't put it down."
— J. Michael Major, author of One Man's Castle
---
Other Editions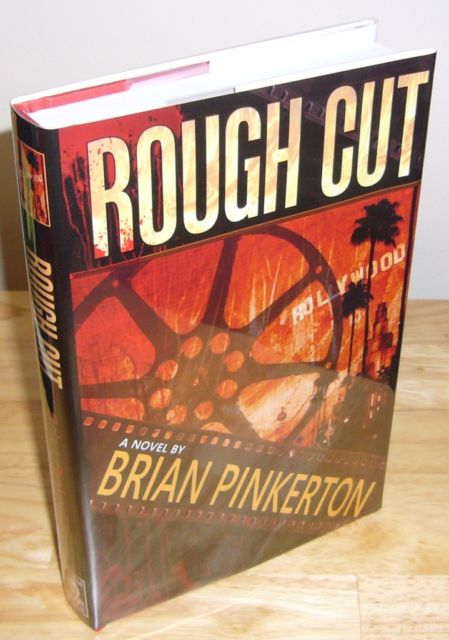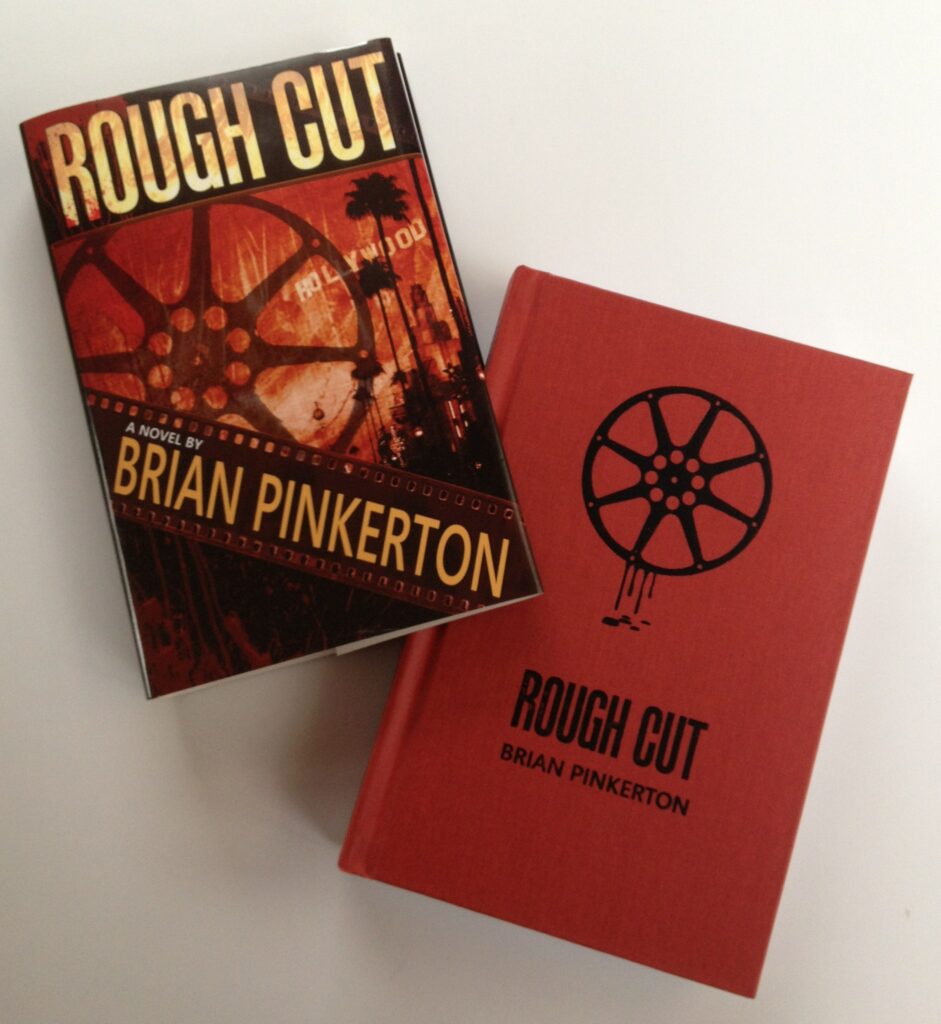 The limited signed hardcover edition from Bad Moon Books. Artwork by John Everson.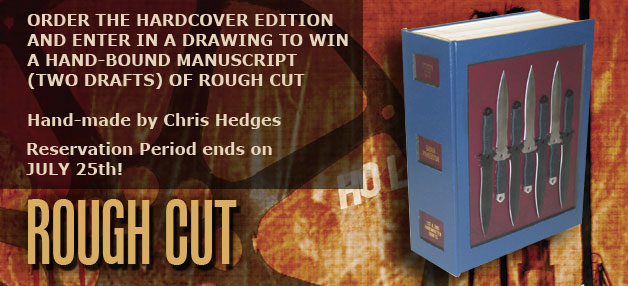 The amazing Chris Hedges of Hedges Bindery created this one-of-a-kind handbound edition of the first two handwritten drafts of ROUGH CUT with seven lethal knives secured to the cover. Readers who pre-ordered the limited signed hardcover were entered into a drawing to win this mega-deluxe monstrosity.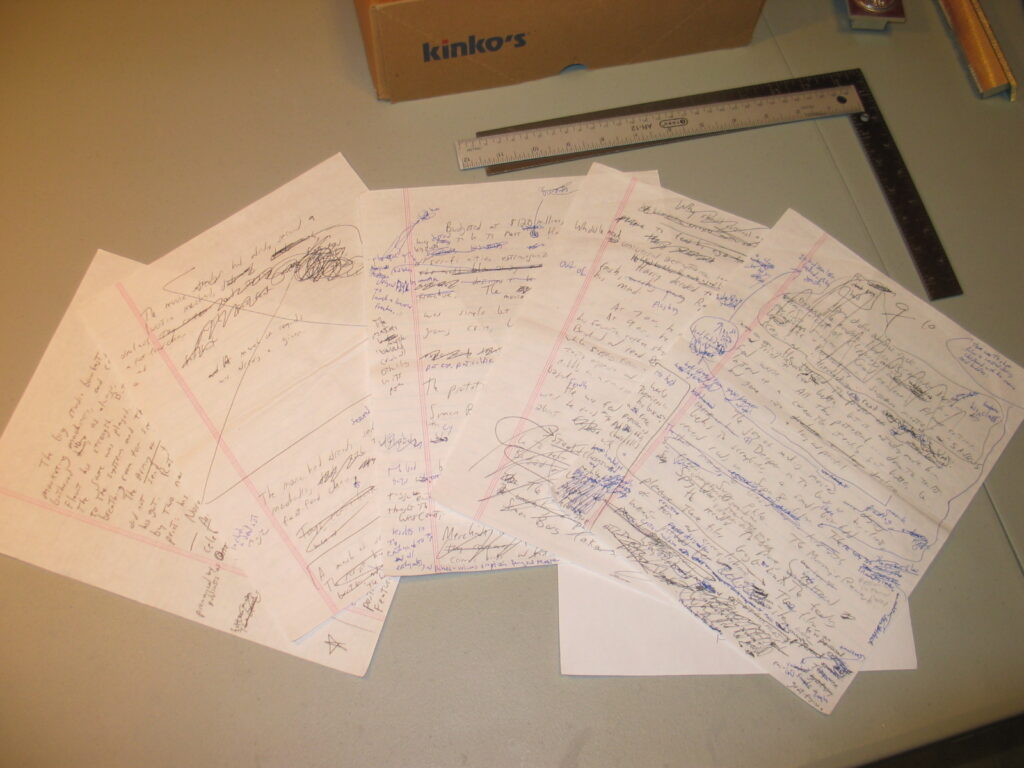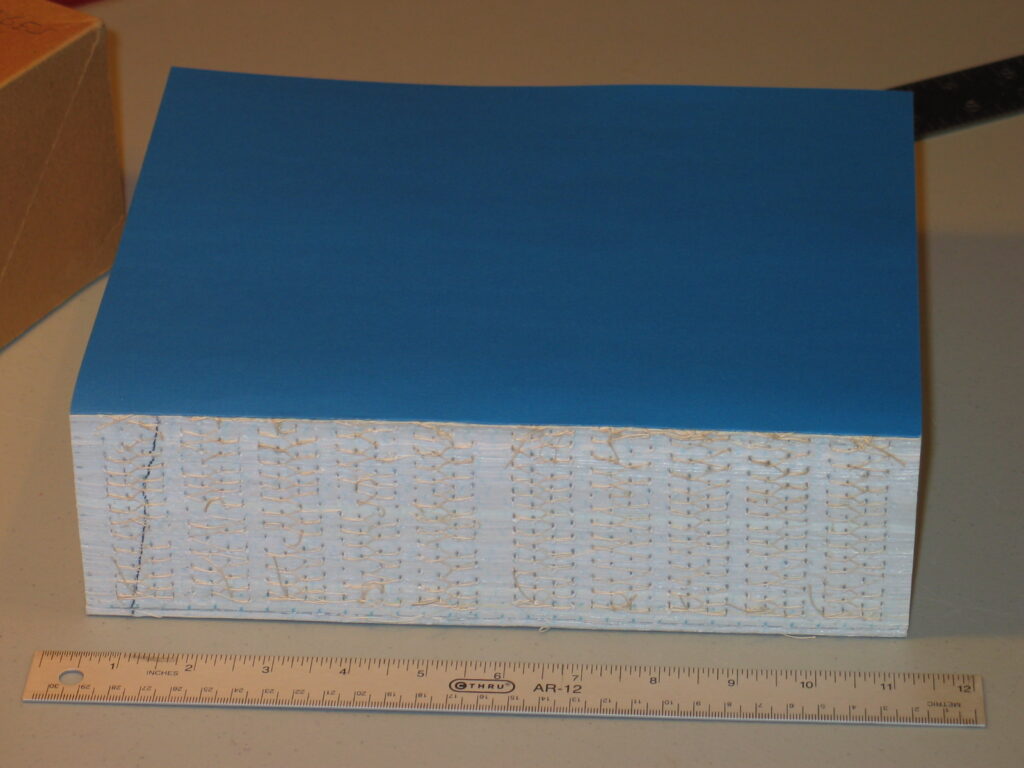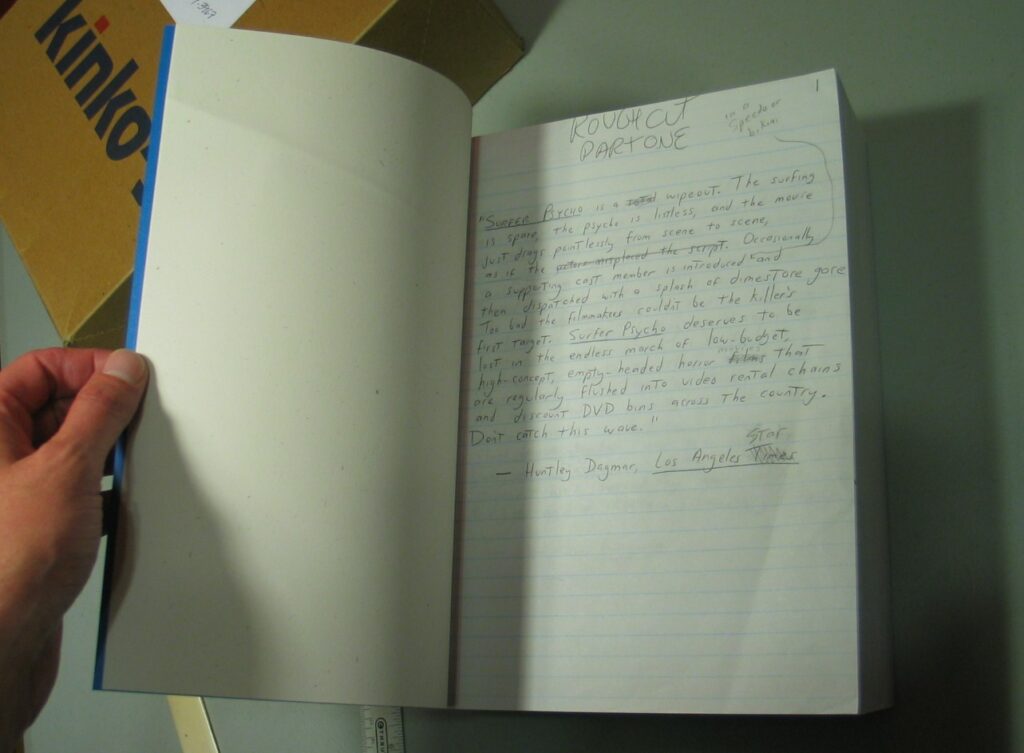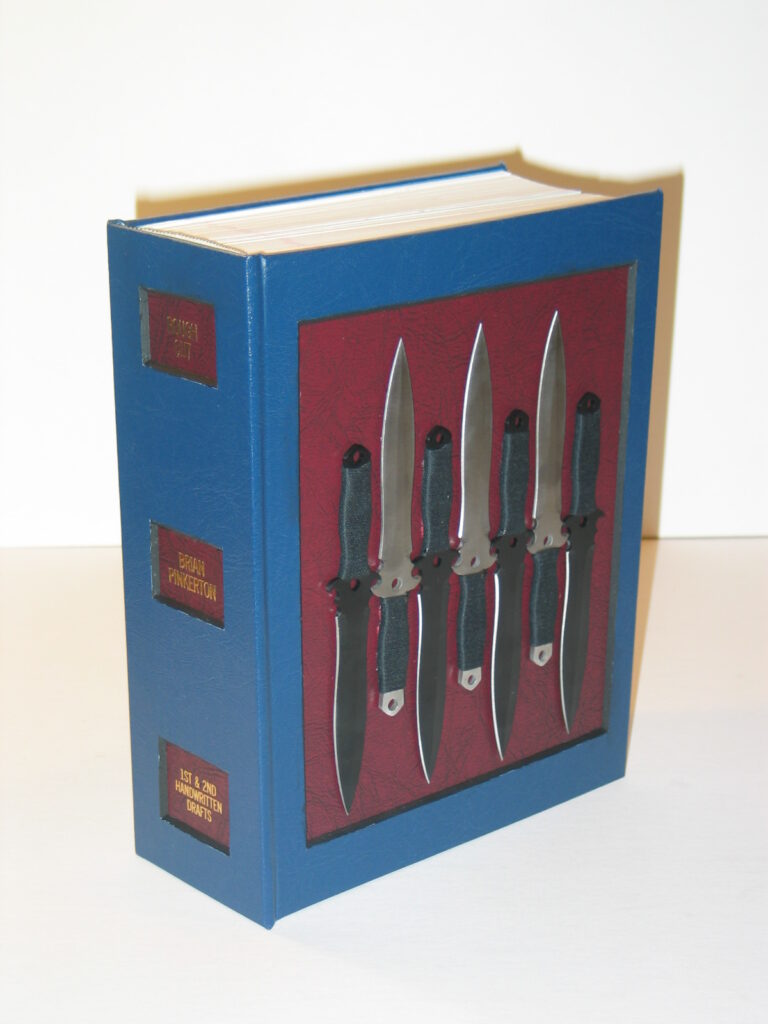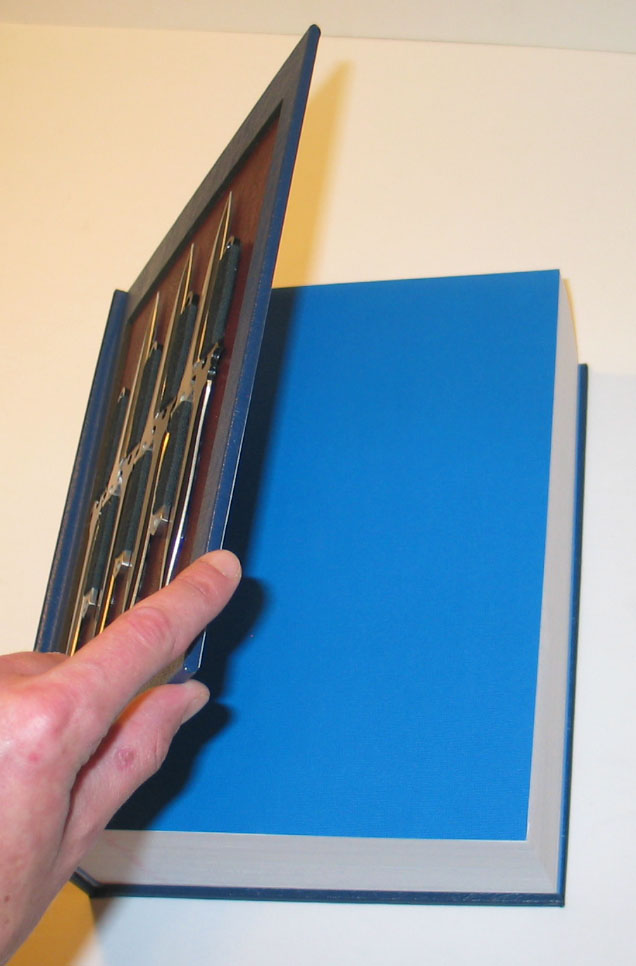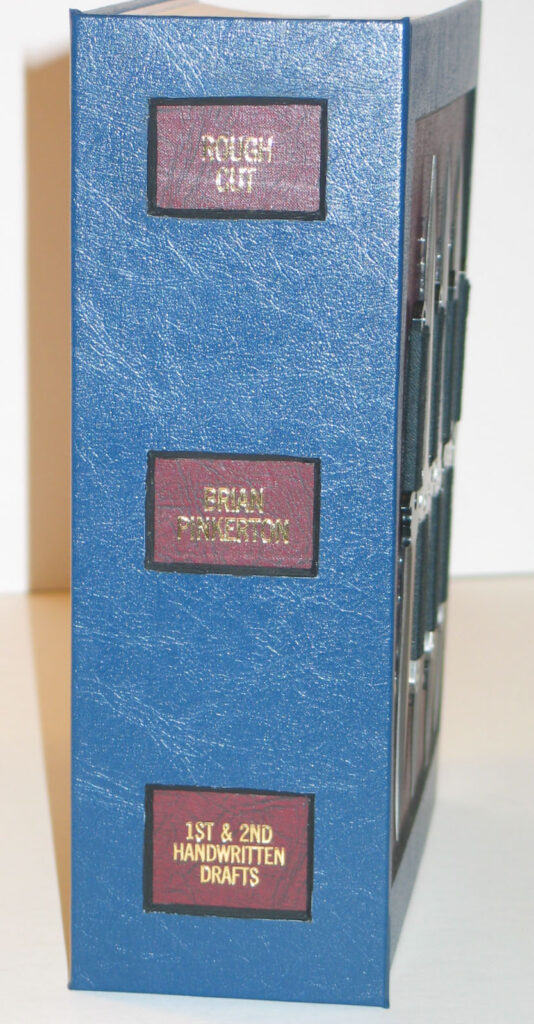 ---
Charts
# 1 Horror eBook on Apple on January 3, 2021
---
Extras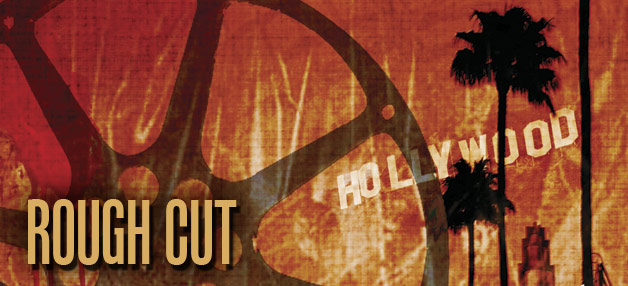 Calling Hollywood! Rough Cut has been adapted into a screenplay by Darren Callahan.
Photos: Brian shills Rough Cut at KillerCon in Las Vegas
Behind the Scenes: Rough Cut interview
The Hollywood Horrors of Rough Cut blog post
Monsters and Me blog post
Rough Cut rereleased on Dark Arts Books
---
Video
---